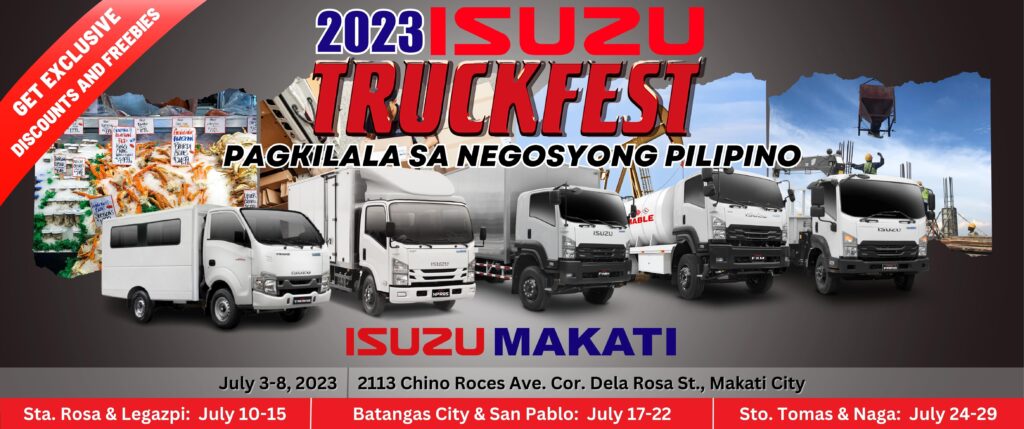 The Isuzu Gencars dealership group is delighted to invite business owners and entrepreneurs to participate in this year's ISUZU TRUCKFEST 2023: PAGKILALA SA NEGOSYONG PILIPINO. This event will showcase the outstanding capabilities of Isuzu trucks and will be held throughout the entire month of July.
The festivities will kick off at ISUZU MAKATI from July 3-8, 2023. This will be followed by ISUZU STA. ROSA and ISUZU LEGAZPI from July 10 to 15, ISUZU BATANGAS CITY and ISUZU SAN PABLO from July 17 to 22, and ISUZU STO. TOMAS and ISUZU NAGA from July 24 to 29.
ISUZU TRUCKFEST 2023 offers an exclusive opportunity for clients to explore the outstanding features of Isuzu trucks, including models such as the Isuzu Traviz, N-Series (QLR, NLR, NMR, NPR), F-Series, and more. Each truck comes equipped with customized body modifications tailored to diverse industries, ensuring clients find the perfect match for their specific business needs.
By registering at this event, clients have access to exclusive rewards and benefits. The perks awaiting them are simply incredible: up to Php 130k worth of discounts on Isuzu trucks, a comprehensive service package including Free Express Checkup, PMS & General Job discounts, and a Service Loyalty Card. As a special token of appreciation, they will also receive a gift box with items for their new truck. Moreover, attendees will have a chance to win Php 10k worth of Sodexo gift certificates and discover many more exciting surprises that await them.
Join Isuzu Gencars in celebrating the entrepreneurial spirit of Filipinos at the Isuzu Truckfest 2023. This event serves as a testament to the company's commitment to supporting businesses in the Philippines and helping them thrive.