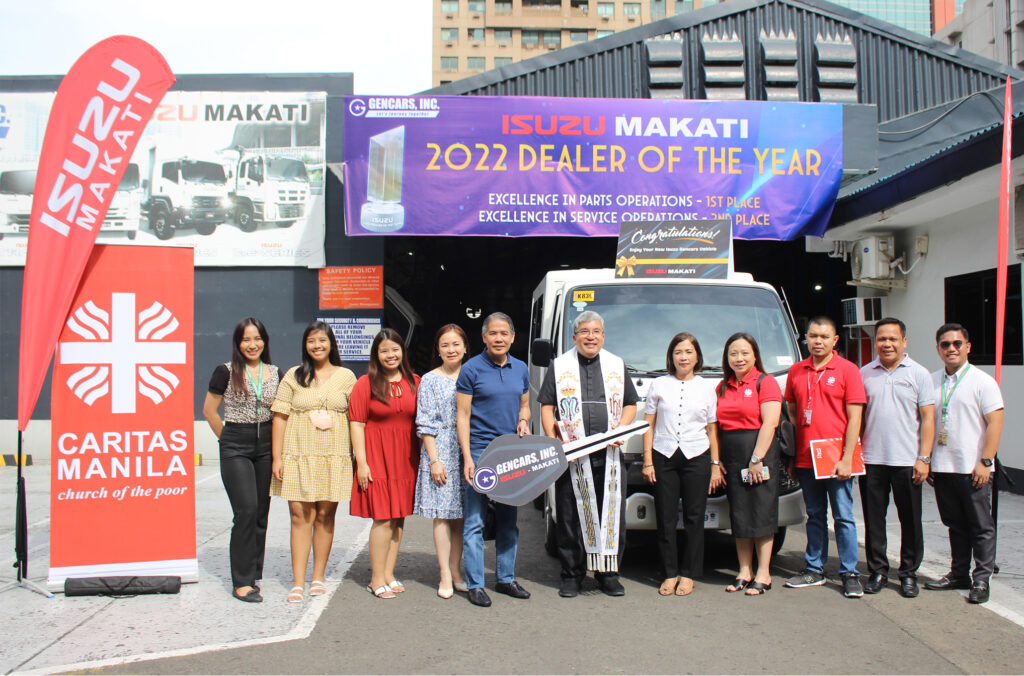 Isuzu Makati donated an Isuzu Traviz utility van to Caritas Manila as part of its Corporate Social Responsibility or CSR. Rev. Fr. Antonio Cecilio T. Pascual (6th from left), Executive Director of Caritas Manila, receives the symbolic key from Isuzu Gencars, Inc. chairman D. Edgard A. Cabangon (5th from left) during the turnover ceremony held at Isuzu Makati on February 9, 2023.
Shown in the photo are (from left) Patrixia Nicole Ann Antonio, ALC Central Human Resources Division (CHRD) Staff; Dannica Nicole A. Cabangon, Executive Officer of Eternal Gardens; Giannina Eunice A. Cabangon, Special Assistant to the President of Isuzu Gencars, Inc., Ms. Sharon Tan, Mr. Cabangon, Fr. Pascual, Lerma O. Nacnac, President of Isuzu Gencars, Inc., Rye Zotomayor, Financial Stewardship Division Head, Caritas Manila; Armand Menguez, Can of Charity Jr. Officer, Caritas Manila; Albert Zata, Vice President of Sales and Marketing, Gencars, Inc.; and JP Estrella, ALC CHRD Recruitment and Research Staff.
Isuzu Makati is part of the Isuzu Gencars chain of dealerships, and a member of the ALC Group of Companies, also headed by D. Edgard A. Cabangon as chairman.